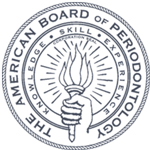 A periodontist is a dental specialist who has the training and experience required by the American Dental Association to diagnose, treat, and prevent different forms of periodontal/gum diseases. They are adept at using the latest techniques to diagnose and treat periodontal disease and perform cosmetic periodontal procedures including dental implant surgery.
After completing three years of dental school, periodontists must complete an extra three years of specialty postgraduate training through a hospital or university-based program accredited by the American Dental Association (ADA).
As research suggests a relationship between periodontal disease and other chronic diseases of aging, some periodontal treatment may require a greater understanding and increased level of expertise by a trained specialist. Patients who have moderate to severe levels of periodontal disease, or patients with complex medical cases, may be best served by treatment from a periodontist.
For more information on Periodontist visit https://www.perio.org/consumer/what-is-a-periodontist