Intraoral Scanner (Digital Impression)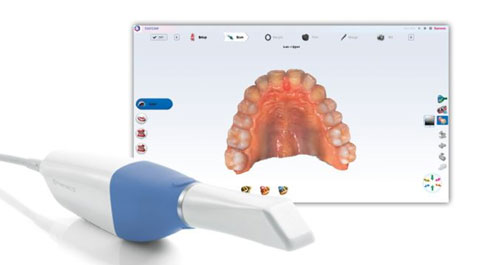 Sometimes an impression of your teeth is needed to study and formulate an ideal treatment plan. Traditional dental impressions involve resting your teeth in a tray full of dental impression material and waiting for it to harden. Sometimes, this will leave you fighting against your natural gag reflex and count the seconds until the material has set and you can finally be done. Then, you hope your dentist gets all the information they need from the impression so you don't have to repeat the process a second time.
You deserve better, and we're here to provide you with alternative options that make your visit more pleasant.
Digital scanning is a new innovative way to get even more information than traditional impressions, with a much easier experience. A small scanner shines a light source on the area (It is not an x-ray or does not emit radiation) that needs to be captured. Your image is captured in real time as we perform the scan. Images are saved in the hard drive or cloud just like capturing pictures with your smartphone for future use.
The intraoral scanner makes your entire dental appointment run much more smoothly:
No more impression trays and fighting your gag reflex
The information from the scan can be used to complete your procedure the very same day, which means less visits to the dentist office.
Your image will be saved in a hard drive and dental implant crown or model can be refabricated without having you return for another visit.
It provides a way for us to clearly communicate dental issues by providing you with a detailed visual of your teeth
Your comfort is always our utmost priority. Come and see for yourself what it's like to receive a more advanced, patient-friendly dental experience. Call us today to schedule your consultation.